July 30, 2017 by Ben Smith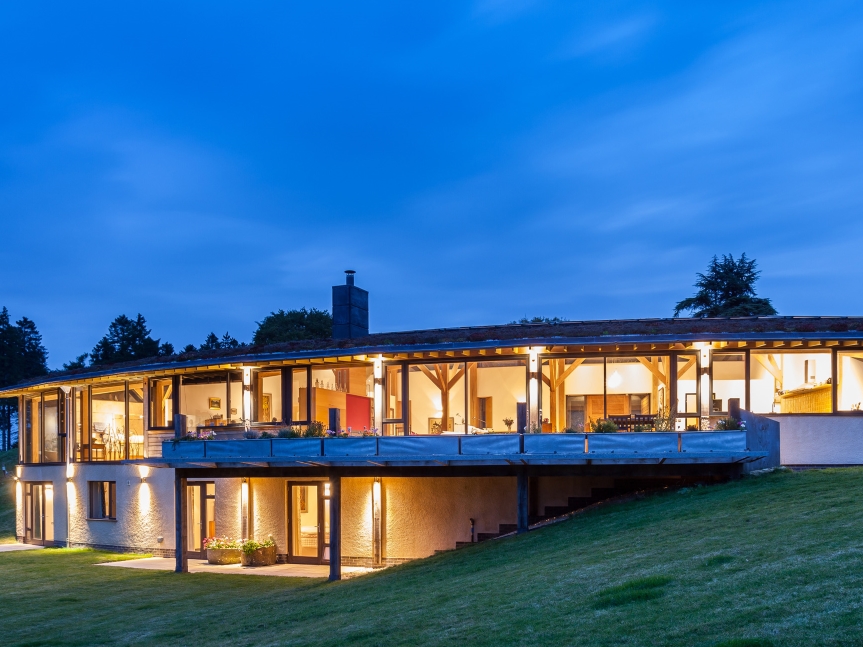 Background
The opportunity arose to design an elightened contemporary oak framed house from a derelict group of tuberculosis sanatorium buildings, set in an idyllic woodland clearing with a stunning outlook to the South.
Design
A bold, curved house plan cradles the end of a dewdrop shaped lake and completes the enclosure at the front of the house. A simple mono pitched sedum roof is supported on nine tree-like oak columns on the upper floor with the bedrooms below.
Technical
Load bearing masonry gives a refuge like feel to the bedrooms on the lower ground floor, whilst the open plan oak frame on the first floor makes the most of the views. Ground source heat pump, solar thermal and PV panels ensure a Code for Sustainable Homes Level 5 rating is achieved.
Awards
Winner of the RIBA South West Regional Awards 2013
Voted Best Timber Frame, Best Eco Home and Readers' Choice for the Daily Telegraph Homebuilding & Renovating Awards 2013
Testimonial
"We are so happy in the beautiful house that you have created for us. The feeling of space, calm and comfort, coupled with the surroundings makes it the home we always wanted…..
A view to treasure is at night – standing by the bund lights, the house looks as if it is a cruise liner floating on water"
Richard & Catriona Tyson, Cranham Lodge
Designed by: George Batterham, Ben Smith, John St Leger
Oak Frame by: Carpenter Oak
Built by: H B Lewis & Sons
This gallery contains 18 photos