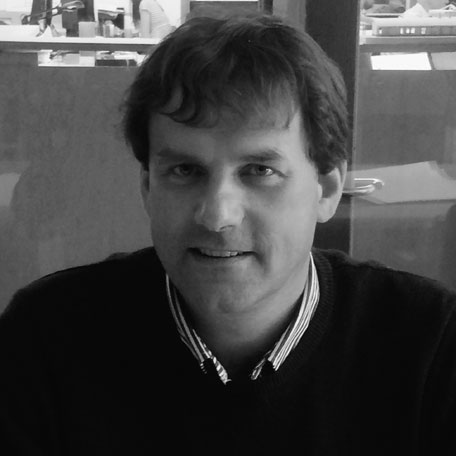 George Batterham
George was taught Sculpture and Wood Carving at Bryanston School by Donald Potter, a pupil of Eric Gill;he then went on to study Architecture at Oxford Brookes University with Robert Maguire and John Craig (Aldington, Craig and Collinge).
Qualifying in 1992, George worked for Maguire & Murray Architects in London, Nealon Tanner in Bristol and Fielden Clegg Design in Bath. In 1994,  he set up practice with Nick Matthews to form Batterham Matthews Architects .
His vision, and that of the practice, is to create inspired, sustainable, contemporary architecture - innovative, but practical and economical to build and set within a strong social and regional context.
Whether it's a whole-school campus master plan or a single handrail detail, George considers it essential that the specific needs of the client are at the forefront of all design decisions.
George excels design clarity, creating spaces utilising natural materials and daylight, all imbued with his natural vitality. His aim is always to delight, uplift and foster a sense of place and identity
Notable finished projects include Cranham Lodge, Rowdeford Special School ,Owlpen and  Kingswood School Pavilion and Boarding House.
He leads and oversees the design dimension of the practice.