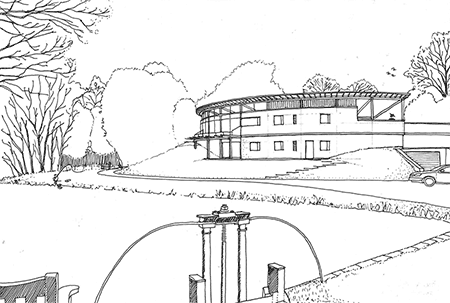 Twenty plus years ago my then four year old son asked "Daddy, what do you do all day?" I carefully explained how people asked me to make things for them, like houses and schools, and that I then spent the rest of the day drawing the ideas that were in my head. His response? "It sounds like playgroup, do you get to do much colouring in?" Now a co-director of Batterham Matthews, I continue to love drawing freehand from imagination and, yes, I do get to colour in sometimes!
There is not really any such thing as a 'typical' day as every project we embark on is tailored to the specific needs of the client. What follows is an illustration of the variety that a day may bring:
At 9ish I'm at my desk and open my emails to find that an ecologist from Bath and North East Somerset Council has got in touch with concerns that the proposed new boarding house we are designing for Kingswood School Bath, may impact on bat flight paths –so my first job is to allay any fears he may have over this ( we're all very environmentally conscious and will redesign whole school masterplans, if it means badger sets or hedgehogs or slowworms remain unscathed). I then settle down to my drawing board and start to design a new green oak frame house overlooking a lake; an enlightened client, keen on sustainability, they have given me quite a free reign and the creativity flows easily until lunchtime with the design concept starting to come alive. I begin to sketch a simple curved plan form with a mono pitched zinc roof, holding in my mind's eye the vision I have for this house.
At any one time, I can oversee in excess of 20 projects from inception through to completion on site – over lunch, one of my colleagues who is working on a church extension in Devizes wants me to cast my eye over the planning application supporting statement before it is submitted.
Post lunch, we hear that a large oak- framed house has just received planning permission , so I call the client with the good news and who can't wait for us to get on site and start. Next up, is an enquiry from a school that wants to double its capacity and so we agree to take part in the feasibility study of the project and arrange a first meeting with the governors.
Around 2.30pm I'm back on the new lakeside house design and remain immersed in that until about 6.30pm when I notice the office is virtually empty and most of my colleagues have left for the night.. Continuing with the water theme, I arrive home to discover eight ducklings have just hatched and I tend to their chick crumb needs.
I thrive on the variety and diversity of the challenges and opportunities that each new project presents and it is this, combined with a desire to create that elusive masterpiece of one's career that motivates me each day.
The sketch that follows this article is the result of that particular day's work on the lakeside house, Cranham Lodge; it went on to become a RIBA award-winner, as well as voted Best Eco Home and Readers' Choice for the Telegraph Homebuilding and Renovating Awards 2013.
I did get to colour it in later.